The No Doubt Zone™ Program for Coaches, Consultants and Mentors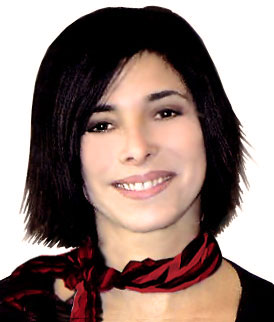 Dr. K offers a Group Mentoring Program because given the huge time commitment, she can only work with a limited number of people privately.
This program is designed to help coaches, consultants, and mentors:
Committed to being in the top 1% of coaches in impact, income, lifestyle, and legacy
Be world class and build a successful practice
Enter the No Doubt Zone, get past FLAR (False Limitations Appearing Real), develop rock self confidence, and self-trust, for themselves and their clients, giving them the principles, process and tools to fulfill their biggest mission.
This program isn't for everyone, so before going into details, let's be clear about who this program is for…and who it isn't.
This Program
ISN'T

for Coaches, Consultants, or Mentors who:
See a major role of a coach as accountability, support or sounding board

Are focused on small changes – incremental goals or increase in skills

Are unwilling to take the risks or make the changes necessary to transform their personal and/or professional life

Places responsibility outside of themselves

Doesn't want deep coaching for themselves
Sees coaching as an activity or tool, not a serious profession requiring continuing educations and advanced skills

Focuses on tactics rather than principles, strategies, deep work

Believes  coaching sessions should feel comfortable

Are not willing to make a significant commitment in their own growth and training
This Program
IS

for You if you are a Coach, Consultant or Mentor who:
Wants to be in the top 1% and are committed to doing what it takes to get there

Is a leader, a visionary, an action-taker

Refuses to let fear stop you

Is committed to developing advanced coaching skills

Wants deep transformation and exponential growth for yourself and your clients… and aren't content with a little change

Doesn't need to be liked, have your ego stroked, or feel good through the coaching relationship
Sees coaching as a profession

Committed to coaching mastery and continued growth of yourself and your skills

Recognizes the importance of coaching and committed to getting transformational coaching or mentoring for themselves

Is willing to commit for a year long program

Is already successful as a coach, consultant, or mentor or have been successful in your prior professional career
What Sets the NDZ Program Apart from Other Programs for Coaches
The NDZ coaching program emerged from a training model I've used successfully for over 35 years:
You get an integrative methodology (Kazlow Method) that goes deep to develop your self, your skills, and your practice. This is not a one size fits all program.
You learn how to enter the No Doubt Zone and get your clients there as well.
You learn to build your coaching practice with an approach that suits you.
This program brings the lens of a therapist and mentor with over 3 decades of experience, a proven training model, extensive research, and the latest NDZ methodology. We don't focus on pathology, limitation or judgement. The focus is on factors that create deep, lasting change and transformation….in business and every area of your life enabling vision
This Program Teaches the No Doubt Zone Triangle
The mastery of the NDZ triangle, taught in this program, is key to becoming a 1% coach.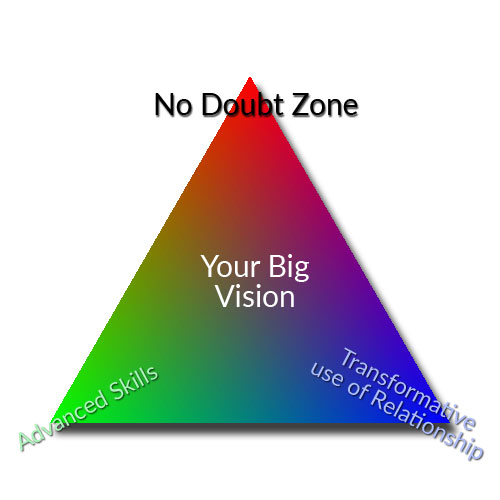 You, the coach, consultant or mentor, and your Big Vision, are in the center of the triangle. Deep work on yourself is necessary to get into the No Doubt Zone and achieve your desire to be a 1% coach.
When you are in the NDZ, you can develop and apply advanced skills while using relationship most effectively toward the goal of transformation and fulfilling your biggest vision. Each aspect of the triangle  is essential and  works together to achieve the big vision. This model applied to helping you become a top 1% coach is the same model you will use with your clients – regardless of the coaching  modality or niche you are in.
The Kazlow Method is the most powerful way to  pull this all this together to get you into the No Doubt Zone to achieve the results you want…for yourself and your client.
12 months (48 group mentoring calls)
Small interactive group
Coaches will be asked to attend live, however in the event you must miss a call, calls will be recorded.
One private mentoring call monthly
Assignments and self-assessments focusing on deep personal work, client process and outcomes, practice building.
Bonus meetings that will deal with VARIOUS issues CUSTOMIZED TO THE GROUP
We will have a private  group where we'll share questions, challenges, and successes.
One live event in Westchester, New York.
Space in our Mentoring Program for Coaches is limited.
Mentoring Program for Coaches Application
This course is not open at this time. If you are interested in getting on the waiting list for the next open position in 2020, please fill out the form below. We will contact you as soon as a position opens up.